Temperature Screening Terminal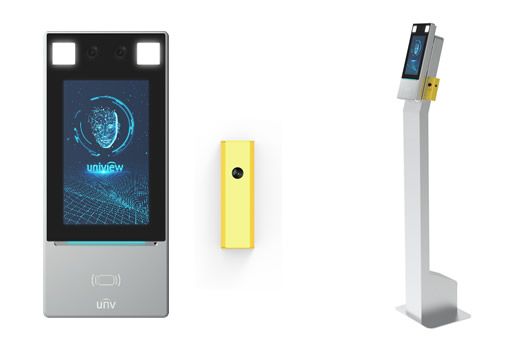 Face Recognition and Temperature Terminal
Model: OET-213H-BTS1-BD


Single Person Temperature and Face Recognition Terminal

Extremely Accurate Wrist-Based Temperature Measurement


Face Detection and Mask Detection


Customizable Temperature Range Alerts


Centralized Management of Terminal Statistics and Images
Uniview Temperature Detection System, Access Control and Face Recognition Terminal

The OET-213H-BTS1 Temperature Detection System from Uniview can take Non-Contact Body Temperature Readings of people entering a facility or business. This Temperature Detection Package delivers Real Time temperature detection which helps employees get back to work safely. The unit comes with PC Tools for data measurement and interface. In addition, the OET-213H-BTS1 can be used for Access Control and Face Detection. Using a Non-Contact, wrist temperature reading, this system can screen temperatures of people and employees entering your facility.
The Uniview Heat Tracker Series, Thermal Automatic Temperature Screening Systems offer a variety of solutions for businesses and commercial facilities. With concerns about potential exposure to COVID-19, and the push for companies to re-open, temperature screening has become a necessity. Many businesses are focusing on re-opening their doors, so there is a greater need for monitoring employees and crowds. Since screening individuals in a busy setting is impossible to do manually, many varieties of Automatic Temperature screening systems have come in to play. You may have already experienced one of these systems if you are back to work.
If you are looking for a temperature detection solution for your facility, the UNV Heat Tracker Series Models are available now.


OET-213H-BST1 Temperature Detection System Key Features:
Non Contact Temperature Detection
Mask Wearing Detection
Real Time Alarm for Abnormal Temperatures
Supports Access Control Integration
Face Detection and Recognition
OET-213H-BST1 General Specifications:
Temperature Readings
Temperature range: 30°-45° (86°F to 113°F)
Read Temperature accuracy: 0.1°
Read Temperature deviation: 0.5°
Measurement distance: 1cm-2.5cm
Application situation: Indoor (10°-45°), no wind
Temperature Measurement
Real-time temperature detection and screen display.
High temperature voice alarm.
Snap photos and overlay temperature OSD information.
Privacy mode: Only measure wrist temperature, not capturing face image
Face Recognition
Accuracy Rate: >99% without a mask >90% with a mask
Fast Face Recognition Speed: 0.2s
High Picture Capacity: Up to 10,000 face capacity
Mask Wearing Detection
Supports face recognition with mask.
UI can indicate whether he/she is wearing a mask or not.
Voice alarm for those who do not wear a mask.
The image below shows the Wrist Temperature Detection Module at use in an Elementary School.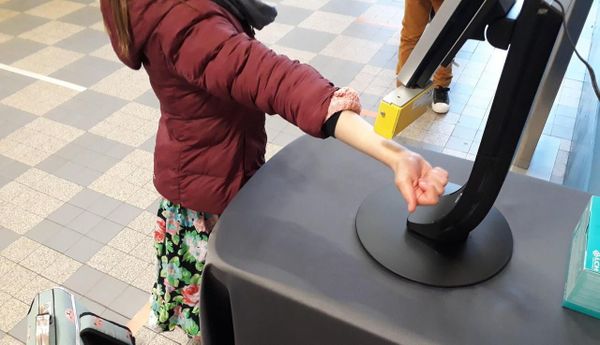 We are here to help you navigate COVID mitigation technology