Multiple Person Temperature Screening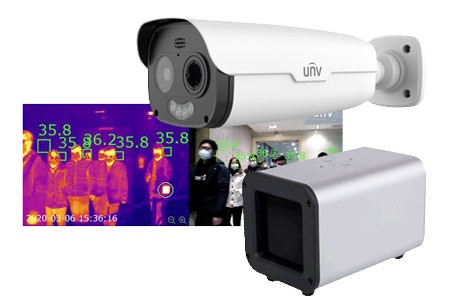 Thermographic Screening System
Model: TIC2531
Highly Accurate Thermographic Temperature Measurement

Rapid Measurement for Mass Screening

Includes Blackbody for Calibration

Automatic Face Detection

Real-Time Alarm and Statistics
Thermographic Temperature Measurement System, Uniview
The USS-TIC2531 Thermographic Temperature Measurement System from Uniview can take Non-Contact Body Temperature Readings of people entering a facility or business. This Temperature Detection Package delivers Real Time temperature detection and screen display. The unit comes with PC Tools for data measurement and interface. As part of the Uniview Heat Tracker Series, the system is designed for larger crowd areas and can detect temp readings for multiple people at once.
Thermographic Temperature Measurement Features:
Resolution: 384 * 288

Visible light: 2MP

Recommended distance: 3-10m

Temperature measurement accuracy: ± 0.3 ° C

Applicable environment: indoor / windless

Pass through without contact, rapid screening of multiple people body temperature in one minute
Thermal camera has high response speed and efficiency, and the tested personnel do not need to stay
Automatic alarm to reduce manual work
Automatic body temperature screening, alarm prompt and automatic photo taking after catching the fever target
Reduce the risk of virus infection among testing personnel
It can measure temperature at a distance of several meters to effectively avoid close contact with potential patients
Image storage for easy recording and tracking
The image temperature measurement method is more intuitive. The alarm image is stored in real time, and the historical data can be queried.
We are here to help you navigate COVID mitigation technology